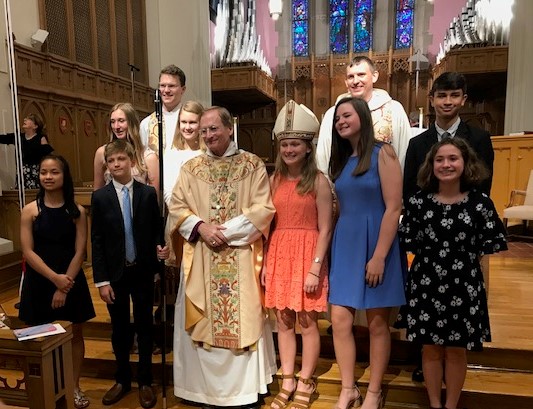 Our Confirmation class is going to have a little bit of a different feel this year. Instead of meeting on Sunday mornings every Sunday, we are going to meet bi-weekly on Sunday evenings, and the group will have a mix of conversation, service/mission opportunities, and retreats – all in the hope that our faith becomes not just something we talk about, but something lived, able to be experienced. Below you can read the letter that our Children and Youth Commission sent out to the 8th graders.
Dear 8th Graders, (and their parents!),
How would you answer these questions: "Why do I go to church, and why do I believe what I do?" Is your answer, "because of my parents"? That's pretty normal, but maybe there is more to it. Beginning next fall, you are invited to take part in a unique program that is designed to help you start or continue the process of changing that answer to reflect, "because I believe it's important!".
With much prayerful reflection, and conversations with our Vestry and the Children and Youth Commission, we are trying something new this year, and Mark Lamendola and Garrett Yates are very excited to lead this new experience. It is even going to have a new name - - but we'll get to that shortly! Their hope for all of you is fourfold:
You have a personal story about God that you can share
You have a deep connection to others in the church; church goes from being a place you attend, (or are dragged to ) to being a community of friends who help you to be everything God is calling you to be
You have a deep sense of God-driven purpose for your life
You have a sense of hope for your future
Because confirmation is marking an important transition from the faith of one's family, to a more personal faith, we are going to call it "Transitions". Plus, confirmation just sounds boring, and this is SO not going to be boring! The changes in the approach to teaching this important program, aiming to meet each of the 4 goals above, reflect the seriousness and importance that we believe should accompany this Transition. Here are some details about the changes being implemented:
The Confirmation service with the Bishop will now be in the fall of your 9th grade year.
We will meet twice a month on Sunday evenings from 6:30-8:00 PM. Locations will vary; sometimes we will meet at a student's home, sometimes at the church, sometimes out in the world at large. This will allow us space and time to really delve into activities and discussions that the short Sunday AM slot never gave us.
Our meetings will be experiential. Mark and Garrett will lead you in activities that will blend scripture readings, thinking about and putting into practice our baptismal covenants, and wrestling with questions that come up.
We will have 2 retreats per year as well as various mission opportunities during the year and in the summer.
A reasonable expectation is that you will make every effort to fully participate in all.
Your parents will be asked to support you in this Transition year.
We are thrilled that both Garrett and Mark are committed to "Transitions" and know how deeply they care about this experience for you. We thank them for their time and work on this important new endeavor to help our youth grow in the knowledge of God's love.
Peace,
The Rev. Garrett Yates
Assistant Rector; Chaplain to St. Paul's Nursery School