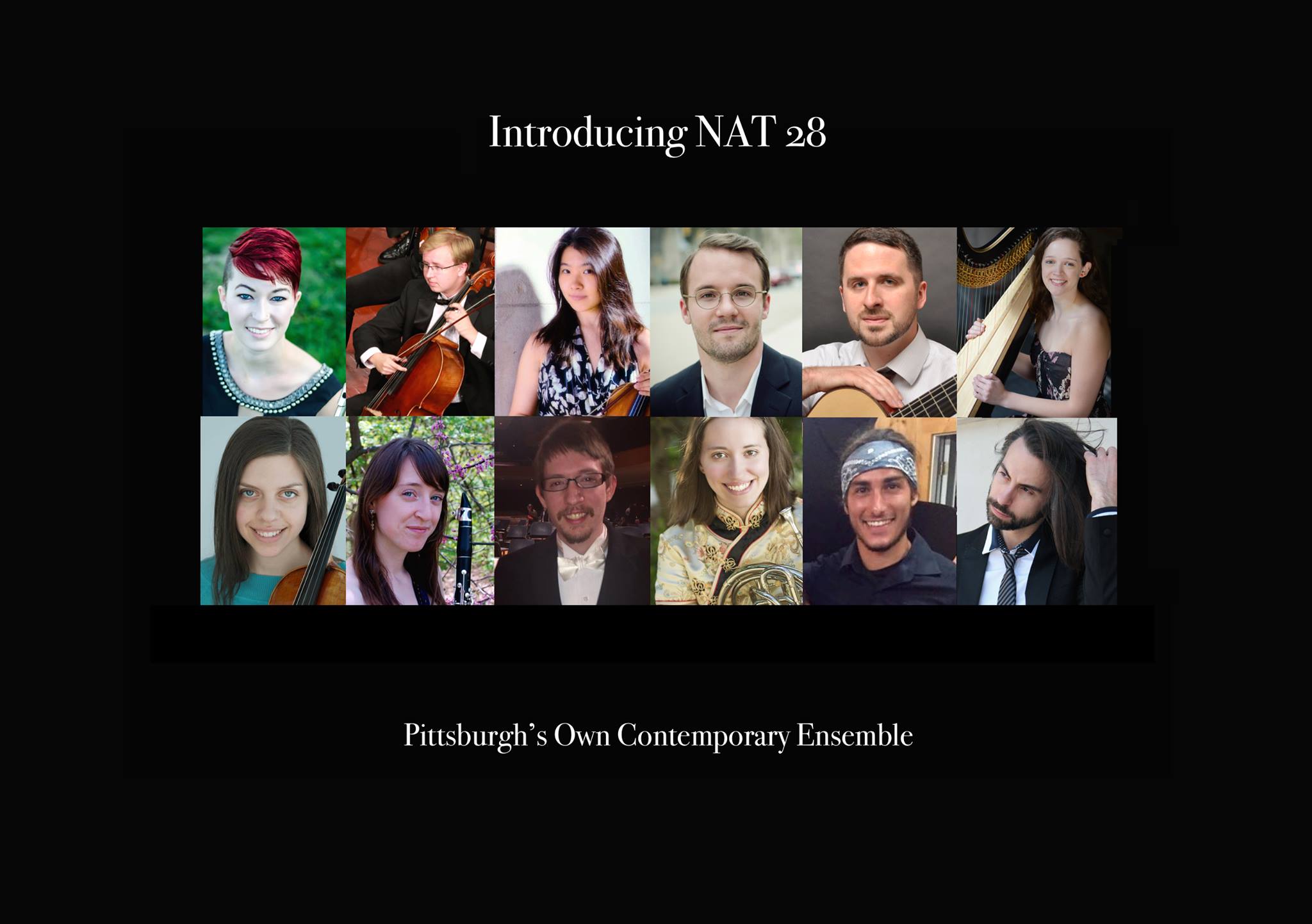 By Douglas Starr
Director of Music and Arts
I am delighted to announce that the young artists of NAT 28, one of Pittsburgh's premiere Contemporary Music Ensembles, are now Artists in Residence at St. Paul's. This partnership will benefit both NAT 28 and St. Paul's artistic mission and sacred music offerings. For example, NAT 28 musicians will be given first opportunity for orchestra contracting and paid performances at St. Paul's for Bach Cantatas, Christmas Eve and other major instrumental performances in worship and in concert. At the same time, NAT 28 instrumentalists will perform gratis in Sunday morning worship a number of times per year. Several additional mutually beneficial aspects comprise this residency. Look for and hear these wonderful musicians on Christmas Eve and throughout the year. We will also inform you about their forthcoming concerts in Pittsburgh and the region. I thank Noah and the Vestry for their support of this visionary project and I especially thank parishioner Tommy Thompson for introducing me to these young artists!
Zoe Sorrell, NAT 28 Artistic Director, offers this statement:
"NAT 28 is thrilled to announce our residency at St. Paul's Episcopal Church for the 2018 season. Churches and music share one of the oldest symbiotic relationships in art history and we are proud to continue this tradition alongside one of the most musically innovative churches in Pittsburgh. The St. Paul's community has supported NAT 28 from the beginning and we are excited to see what this new partnership brings for both institutions."
On happy occasions when I receive compliments about our music at St. Paul's, my response of appreciation always concludes with, "I had lots of help." Indeed, St. Paul's musicians who sing, perform instrumentally, organize activities, encourage and analyze are a treasure of talent and "greatness of heart" that Christin Cooper and I absolutely require.
On Christ the King Sunday when we sang Andrew Fletcher's glorious setting of a noble religious poem by an obscure 16th/17th c. British poet, I asked St. Paul's in-house literary scholar (and alto chorister), Kathleen Hendricks, to write about this poet for our weekly bulletin, electronic notes and our parish website music Blog. Here is her unedited and insightful offering to St. Paul's Music and Arts:
"Nicholas Breton (ca. 1553-1626) was the contemporary of Shakespeare and Edmund Spenser, of John Donne and George Herbert. Though he languishes in obscurity today, during the Elizabethan and Jacobean eras, he was known for the profusion and variety of his work. (A character in a play by Breton's contemporaries, Beaumont and Fletcher, claims that he has undertaken the heroic labor of collecting "those thousand pieces of that our honour'd Englishman, Nich. Breton.") Breton wrote satires, essays, and dialogues, although he is perhaps best known for his religious and pastoral poems. He also was among the first English poets to think of himself as a professional writer, to be recognized, and compensated, for his gifts. Despite his ambition, Breton was keenly aware of his limitations, which he expressed as self-deprecating wit. In one early poem, he compared his plain verse to bad cheese: they both lacked taste. In the lovely religious sonnet, "Oh That My Heart Could Hit Upon A Strain," Breton's modesty acquires a spiritual dimension. Here, the poet laments that he cannot praise God as God deserves. The poet imagines angelic music and inspired words beyond his expressive powers and yearns to re-create this vision in his own poetry. Even as he pictures his earthly poetry achieving heavenly heights, he concludes that God's glory outstrips any words or music and that God is best praised in human contrition and devotion – "souls may sing when all heart strings are broken."
Our Music Assistant, Christin Cooper, who leads our growing youth music ministry, conducts handbells, and sings in Chancel Choir offers this:
"As Advent approaches, I am thrilled to begin working on the music of the season. St. Paul's handbell ensemble is off to a festive start, with music for Advent and our service of Lessons and Carols. The sound of handbells never fails to put me in the holiday spirit! Praise Band is rocking into the holiday season with familiar hymns for the Christmas Pageant. Canterbury Choir has begun preparing the Advent anthem "A Star, A Song" by Hal H. Hopson. Through the use of dynamics, repetition, and modulation, Hopson weaves a musical story of excitement and anticipation for the coming of Jesus. In preparation for the Christmas pageant, we have begun rehearsing one of my favorite carols, "Still, Still, Still." In a season that can be busy and stressful at times, I find solace in the lyrics which remind me to be still, to rest, and to dream. I am looking forward to my first Christmas at St. Paul's, and sharing some of my favorite music with all of you!
Our next two Friends of Music Guild Concerts offer outstanding chamber music:
Sunday, December 10th, 2017 at 4pm
Alexandra Thompson, Cellist
Cellist Alexandra Thompson, who attended St. Paul's growing up and now plays in the
Pittsburgh Symphony Orchestra! She will perform an assortment of classical works and holiday favorites. Proud father and retired PSO member, Thomas Thompson will be in attendance with beautiful wife and singer, Christine Thompson.
Come join us for a most splendid concert!
Suggested Donation; $10
Sunday, January 21, 2018 at 4:00pm, Chamber Music Concert for strings and organ
Pittsburgh Symphony Orchestra members Carolyn Edwards (violin) and Alexandra Thompson (cello) join Anne Carper Smith, organist at Bower Hill Community Church, to present a recital featuring duos by Kodaly, Saint-Saens, Rheinberger, and others. Please come and enjoy an hour of exceptional chamber music. Suggested Donation; $10