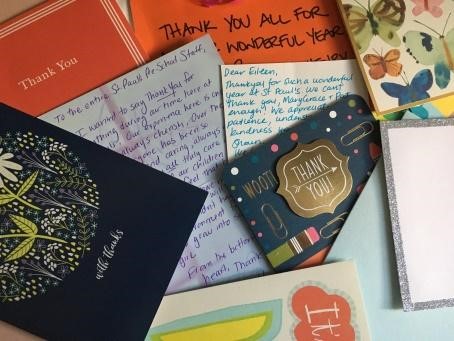 As another school year comes to a close I am appreciative of the many parents who stopped by the school to say goodbye, express their gratitude for the nursery school and share their varied experiences while attending St. Paul's. Dozens of others sent notes and cards, which I admit have stayed on my desk for over a month. I am reluctant to put them away and enjoy looking at them especially now that the halls are empty and quiet. The notes and cards not only remind me of the many parents and children we had the privilege of getting to know but also contain messages that affirm the important work that goes on each year at the nursery school.
I re-read several of the cards this week, as I finally moved them into a neat stack and into a basket on my desk. I found it interesting that none of the notes mention parents' gratitude that we taught their child how to write their name, recognize their colors, numbers or letters. No, not one thread of academic knowledge or specific skills acquired seem to be note-worthy, not in these thank you notes. Cutting with scissors, grasping a pencil, skipping across the room; not one made the list. The things most parents expressed gratitude for actually are not found on a kindergarten readiness checklist or ones easily written into lesson plans, yet I know the staff at St. Paul's Nursery School are very intentional about teaching these things on a daily basis. Love your neighbor. Use your words. Keep your friend's feelings and body safe. Walk away. This is a sharing space. Take turns. There is always room for one more.
I am grateful for the opportunity to partner with parents during these early formative years. My hope and prayer is that by taking the time to teach children how to be part of a community they will someday, as adults, use their knowledge to do what is right and just.

So we, though many, are one body in Christ, and individually members one of another.
Romans 12:5
Eileen Sharbaugh
Director, St. Paul's Episcopal Nursery School