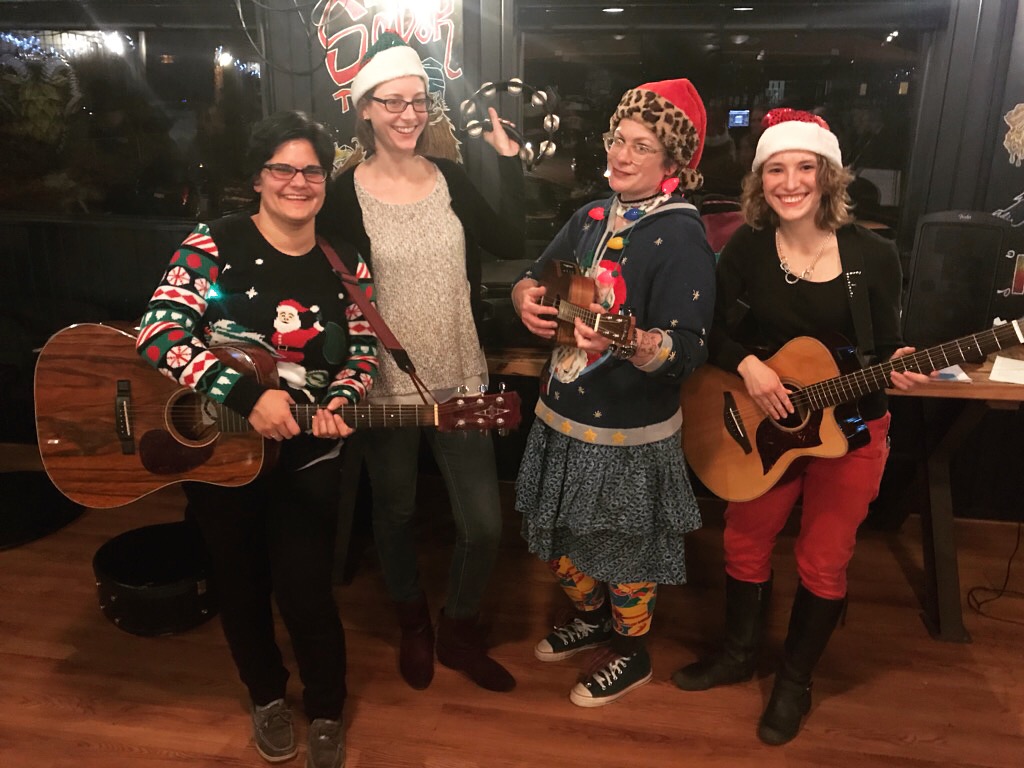 a reflection by Frankie Kavalir
St. Paul's Youth Ministry Intern
and Praise Band Member
I know that we're supposed to be lighting the candle of love this coming Sunday, but honestly, I'm still recovering from my annual hatred of people that start listening to Christmas music before Thanksgiving.
Maybe it's not very Christian of me to discuss my own petty concerns, but we're going to go ahead and do it anyway. In November, it's not the most wonderful time of the year, it's not beginning to look a lot like Christmas, and Emmanuel isn't here yet. It doesn't make sense, and the poor turkey should have its day.
However, as Advent and our season of waiting comes to an end, caroling becomes not only acceptable but encouraged (obviously by me in particular if you were at Beer and Carols).
Any such time of joy and musical merriment reminds me a particular preacher back in State College and his most frequent sayings. In order to hear this phrase correctly, make sure to use a gruff older male voice with, most importantly, a deep Southern accent. He would jump up to the lectern and shout, "You've got to get excited about Jesus!"
And he was absolutely right. I'm not saying you have to raise your hands, jump off the ground, or scream with joy, but we should be overwhelmed with excitement. The Lord came for us, died for us, lives within us. . . I think you know the story. Essentially, it's a pretty big deal.
It's difficult though, to remember and to express this joy in our day-to-day lives. Rather than being overwhelmed with joy, we are often overwhelmed by small chores and tasks, work and school, appointments and deadlines. Naturally, more serious or significant matters weigh on our hearts: health issues, financial problems, grief.
To remedy these stressors, we're often told to think of the little things that make us happy. But why not think bigger? Why not search for love and for happiness in the Lord who epitomizes those very things? Maybe because that greater good implies more weight. It's easier to express joy for the little things—giving others a smile or thanking them for what they do—but how do we express excitement for God?
One of my favorite outlets for this task is music. Every Sunday, we gather together in song, be it in playing an instrument, singing along, or just listening to psalms and songs. I first delved into this connection between God and music about seven years ago when I started playing in St. Paul's Praise Band (or Jesus Band, or 8:45 Band. . . this has been contentious debate in which I want to remain uninvolved).
Music allows us to express excitement like few other art forms. You can sing softly and soothingly or loudly and boldly. Lose yourself in the words praising God, or lose yourself in the tones echoing around you. It's absolutely magical.
The Christmas season quickly fills up with musical events. Between youth Christmas caroling trips, band and choir concerts, Beer and Carols, Share the Joy, and our wonderful music-filled services Christmas Eve and Christmas Day, our music department keeps more than busy—be sure to pray for Christin and Doug.
It makes perfect sense that Christmastime puts people in the mood to sing. During Advent we await the coming of Jesus in Bethlehem, the start of the the most important story of our faith that continues in our actions today. However, Jesus is not only here for us to gather excitement through the month of December. He's always with us, and there is always joy to be had for that.
So, fine, I guess, if you want to keep singing your Christmas carols through January, or through July, or through next November, go ahead. But I better hear everyone able singing loud and proud this Sunday for our Christmas pageant and vigil. Or just in the undercroft. Or just walking down the street. Anywhere is a good place for music, and anywhere is a good place to be excited for Christ.