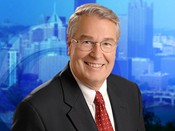 a reflection by Jon Delano
Last September, I reported to the Parish that a Bylaws Task Force was hard at work reviewing, updating, and changing the legal document that governs the way St. Paul's Episcopal Church operates.That work is nearly done.
For most of us, St. Paul's is a great place to worship with wonderful fellowship, inspiring clergy, a variety of informative programs, great music,a highly respected nursery school, and an impressive physical plant.
But St. Paul's is also a corporation, a legal entity with a governing structure that places most power in the hands of lay people elected by the congregation, the Vestry.
I am happy to report that the Task Force has completed its work, and the Vestry has reviewed the proposed changes.Subject to a final vote by the Vestry and the Standing Committee of the Diocese, the last word is up to the Parish at the Parish Meeting set for Sunday, February 25th, when you will be asked to approve the new Bylaws.
So that everyone knows the changes proposed, we have scheduled an Adult Forum on the Bylaws on Sunday, January 14th, at 9:45 am. I know that this can be "dry" stuff for some, but this is best chance to voice your views, and we want to hear from you.
For the most part, the Bylaws preserve the basic governance structure -- a 12-person lay Vestry elected for staggered three-year terms.But the language has been modernized and gives the Vestry greater flexibility to operate with 21st century technology.The Senior Warden, now appointed by the Rector from the Vestry, will continue to be nominated in that manner but subject to confirmation by a majority of the Vestry.The other officers are elected directly by the Vestry.
In compliance with national Church requirements, membership for voting purposes at Parish meetings is reduced from 18 to 16 (although you cannot serve on Vestry until age 18) and old language limiting voting to those "on the Treasurer's records as a regular subscriber" has been replaced with the new words "active in the life of the Parish and supporting its operation," recognizing that many support the Parish in a variety of ways.
We will distribute copies of the new proposed Bylaws and a list of the revisions at the meeting this Sunday.But if you would like to see these in advance, feel free to email me at [email protected].
I want to thank the members of the Vestry for their support of this endeavor, and the Bylaws Task Force for their hard work.The committee members include Jon Delano (chair), John Adams, Ken Argentieri, Barbara Bachman, Sarah Downey, Jeff Dunbar, Joe Gray, Courtney Horrigan, Geoff Hurd, Jon Paulus, Pat Eagon Stafford, Steven Sumpter, Doug Toth, Jan Toth, and Ansley Westbrook.
Please come join us January 14. How we govern ourselves says a lot about our Parish, and you are very much a part of that!