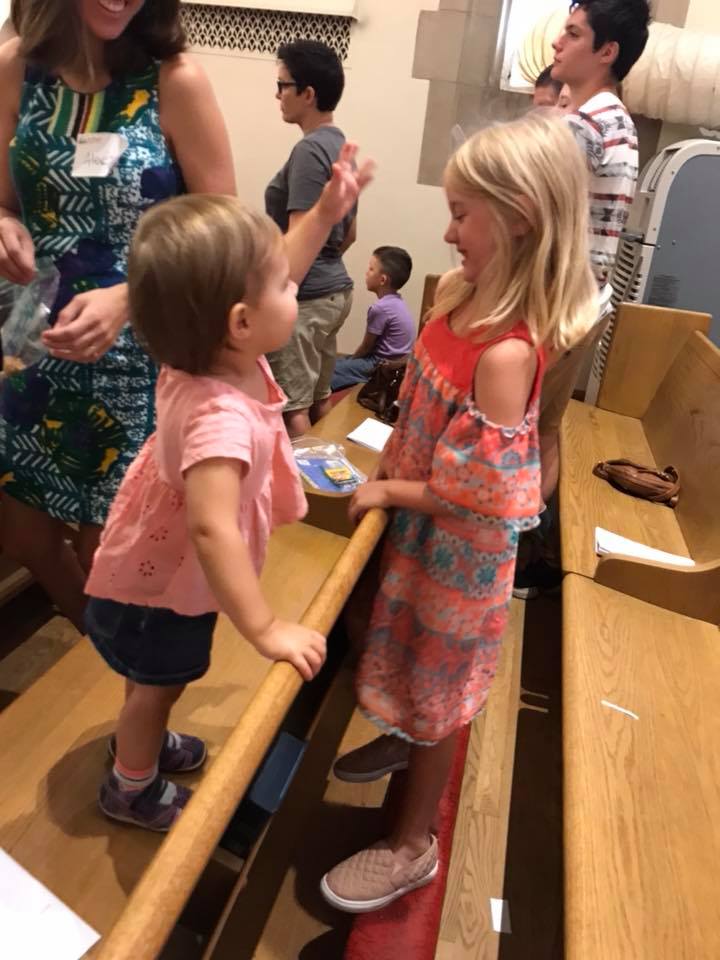 Click here to view the Fall 2018 Children & Youth Calendar.
Click here to download the Fall 2018 Children & Youth Calendar.

"God Loves You. No Exceptions!"
Happy Fall, Everyone!
I'm so thankful for another program year at St. Paul's with all of you and your kids! It's a wonderful blessing to watch them learn and grow more fully into who God intends them to be each year!
There are a few changes for the fall that I'd like to share with everyone.
Sunday School Hours:
First, our Sunday School hours are a little different. To accommodate our growing program and the changes that we're implementing, Sunday School and Youth Forum will be extended to run from 9:45am to 10:45am, for all participants pre-K through 12th grade.
Room Assignments are as follows (but may change as we discover how many kids we have signed up!):
Pre-K: Third Floor Godly Play classroom, across from the choir room
Kindergarten: Ground floor, classroom off the nursery school "big room"
First Grade: Ground floor, down long hall, first door on the right
Second Grade: Ground floor, down long hall, last door on the left
Third Grade: Ground floor, down long hall, second door on the right
Fourth Grade: Ground floor, down long hall, third door on the right
Fifth Grade: Third floor, large classroom with three access doors
Sixth grade: Second floor, conference room
Seventh grade: Second floor, library
Eighth grade through twelfth grade: Second floor, Youth Room
Sunday School Kick-Off:
We will be kicking off our program year with an All Parish Brunch and "Meet Your Sunday School Teacher" event! Join us at 9:45am after the 8:45am service on Sunday, September 9th in the Parish Hall for a delicious brunch. At about 10:15am, all kids will be dismissed with their parent(s) to their classroom, with their teacher, to meet those teachers and classmates and fellow parents. It's a great opportunity to enjoy fellowship time together, and start to form new relationships with families that perhaps you don't know that well yet! This is a terrific place to join in Our Journey Together!
After you have met your kids' teachers and friends, if you are interested in the Canterbury Choir or the Good Shepherd Choir, go to the choir room (third floor at the end of the hall) to meet Christin Cooper and talk about what her plans are for the choirs this year!
Sunday School Registration:

If you haven't signed your kids up yet, no problem! Here's the link!
https://www.stpaulspgh.org/kids/
8th Grade Confirmation Class:
Next, our 8th grade Confirmation Class will be a little different this year. They will meet every other Sunday evening, rather than every Sunday morning as we've done in the past. Our goal is to have a more meaningful, deep conversation about faith and what it means to live that faith in daily life, and also to allow these Confirmands to more fully participate in the life of the church on Sunday mornings. The 8th graders are welcome to join Youth Forum in the Youth Room on Sunday mornings, or they can attend Adult Forum if they prefer. Hopefully they will be able to explore what aspects of St. Paul's are meaningful to them-- and participate in those as they make their journey toward their Confirmation. (Seventh grade Confirmation will continue to meet every Sunday, from 9:45am to 10:45am.) Our goal is to have the Confirmands continue A Journey Inward, but also to join Our Journey Together.
Please note that Confirmation will take place in the fall of 2019 for the current 8th grade class-- meaning they will be Confirmed when they are 9th graders.
Godly Play with Pre-K class:
Finally, I'm really looking forward to starting Godly Play with the pre-K class in the fall-- we will likely be changing to this program for our Kindergarten class starting in January. What is Godly Play, you ask? Godly Play is an approach to faith formation that helps children to explore and learn about their faith through story-- it is based on Montessori principles. Children involved will gain religious language and learn to use it to describe their faith-- all through the use of "wondering", and play. We have been using this technique in the Children's Homily since last fall, and have used it this week in our Vacation Bible Camp-- the children are incredibly tuned in to the stories, and can figure out where they are in each story.
Godly Play Training in October:
We are excited to announce that to kick off our Godly Play program, we will be hosting a three-day Godly Play training right here at St. Paul's. Anyone interested in attending should register at the below website.
Our schedule is as follows:
Thursday, October 18, 2:00p-9:00p
Friday, October 19, 8:30a-5:30p
Saturday, October 20, 8:30a-5:30p
Dinner on Thursday, and lunch on Friday and Saturday, are included in your registration.
Here is the link to registration:
https://www.trailblz.info/godlyplay/eventcomplete.aspx?eventid=200
Anyone interested is welcome to attend-- registration is limited so sign up now!
Canterbury Choir Updates:
First-- Meeting with Christin Cooper on Sunday, September 9th at 10:45 in the choir room to talk about what choir will look like this year!
In the past, Canterbury Choir has been open to singers from Kindergarten through 5th grade. Going forward, we are reorganizing our youth choir into two groups based on differences in age level and ability.
Good Shepherd Choir: Our youngest singers will have the opportunity to sing occasionally throughout the program year as part of our Good Shepherd Choir for children ages 4 - 7 (pre-K through 2nd grade). Practices to be decided!
Canterbury Choir: Singers ages 8 -14 (3rd through 8th grade) are welcome to join our "new" Canterbury Choir, which will rehearse in the same time slot that Canterbury Choir has always occupied, from 10:45am-11:15am every Sunday. We believe this restructuring will address the following goals: first, to provide age-appropriate, meaningful musical experiences for all children and youth. Second, to provide a musical space for youth who have aged out of the children's choir program but have not yet aged into the Praise Band or Chancel Choir.
Our first rehearsal will be Sunday, September 16th- - all are welcome! Watch for more information!
Family Yoga Updates:
Family Yoga is Returning by popular demand! Yoga for families will return on Friday evenings starting September 14th at 6:30pm in the Big Room area of the nursery school (the ground floor of the church).
Questions? Contact:
Kristen Morgan, Director of Children and Family Ministry
[email protected]
(412)531-7153 extension 36

Paul Barker, Director of Youth Ministry
[email protected]
(412)531-7153 extension 20