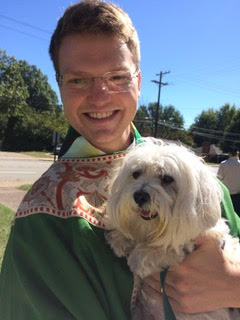 A New Year's Reflection
by the Rev. Garrett Yates
Like you, I adore and admire the New Years' resolutions that fill my social media newsfeed every January. Please, tell me more about the Whole30 or Keto diet you are doing. Yes, I want to see your feet photos from the treadmill. Smart friends, what books will you be reading while I binge watch the next "Netflix Original"?

I kid, of course. Resolutions do have their place. There's something hopeful about them, even when done with tongue in cheek. Something unavoidable. And Lord knows we can use all the cheerleaders we can get, virtual or no.
Just please, keep our churches out of the "New Year, New You" news cycle. I find this kind of cultural appropriation damning. Unfortunately, many Christians across the country will go to church the Sunday after New Year's Day and will be given Bad News dressed up as good:
You, YES YOU, can fix your relationship with Jesus this year!
Make your New Years' resolution Jesus!
….Or whatever else that asks us to be the hero who overcomes the "Old" (bad self) and realizes the "New" (good self)
There's something deep in us that longs for the "new": the untarnished, the innocent, the surprising, the latest and the greatest. We fear getting stuck in the world of Bill Murray in Groundhog Day: relentless, repetitive, same old, same old.
The Bible does talk a lot about the "New" – God's mercies are new every morning (Lamentations); God puts a new song in our mouth (Psalm 40); God wants a new covenant with his people (Jeremiah); and of course the New Creation (2 Cor. 5). The New is everywhere irrupting, breaking forth, dusting off the cobwebs on the old. But here's the catch – the new begins with God.
My favorite story on a "New Beginning" is the Parable of the Prodigal Son. We recall that the wayward and wasteful younger son decides to head home to his Father after blowing his savings and waking up destitute and near-dead in a far-off country. At rock bottom, he decides to go home. But he doesn't return for valiant or admirable reasons. He goes home because he is hungry and knows that his Father will feed him.
And actually, the Prodigal Son does have a "New Year's resolution" of sorts planned. He tells himself that when he sees his Father he will say to him, "Father, I have sinned against heaven and before you. I am no longer worthy to be called your son. Treat me as one of your hired servants."
But the really insane part of the story is that just before the son's grand moment of rededication, the Father stops him with a running embrace. The son's reasons for returning, level of commitment, and righteous penitence are all irrelevant to the Father. It is only his return that matters.
I hear in this story something to do with how God isn't as concerned with our resolutions to be better people, whether through dieting or behavioral touch-ups, so much as he wants to show us his own resolution to accept us and love us and welcome us home. It turns out that letting this lavish embrace and welcome in is our only hope for lasting change - psychological, spiritual, and moral.
So yes. "New Year; New You." Let's let the Parable of the Prodigal Son shed some light on the New Year, and God's always new embrace. Because of course this embrace, this mercy, is new every morning, even as it makes us new every morning.