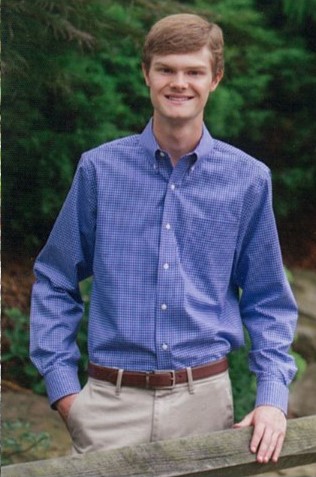 a reflection by Jack Brownfield, Summer Intern
Now that the summer is coming to an end, I wanted to take some time to reflect back on everything I've experienced and learned through interning at Saint Paul's. Having grown up in the parish, I was familiar with some of the people and ministries that make this place special, but it has been my privilege to learn more and to work with you all for the past several months. When I started back in June, I hoped working at the church would give me an "inside look" at the life of the parish, and I am very happy to say that it has. Whether it was a summer cello camp for young musicians or the planning for our pig roast, I learned that there is far more happening at Saint Paul's than I was aware of.
I had also hoped that this experience would give me a better idea of ordained ministry. Before this summer, my understanding of the work of a priest was limited to Sunday worship. I knew, of course, that Noah and Garrett also visited people in hospitals and nursing homes, led classes and discussion groups, and generally kept busy the rest of the week, but I did not know exactly what these parts of the vocation were like. This summer, I have been blessed to participate in these aspects of ministry. I have had the chance to visit the residents of Providence Point and Friendship Village, praying and bringing them Communion. I have led several of our Summer of Psalms discussions on Sunday mornings, which gave me the chance to get to know more people in the parish and talk about one of the most fascinating books of the Bible.
And, along with Garrett and about a dozen others, I got to participate in Café Theology, a book discussion group that combined a relaxing hour at Uptown Coffee with intense theological debate. We read Verna Dozier's The Dream of God, which I heartily recommend, and over the course of a few weeks discussed everything from the role of the institutional church to whether or not humans have free will. It was gratifying to meet and talk with people who care about these kinds of things, and who, though we frequently disagreed, did so without being disagreeable. Finally, interning at Saint Paul's has given me the opportunity to help out with a whole host of other projects and ministries, many of which I would have never even thought to try. I helped reorganize our church's archives, for example, and came across many interesting documents, including a bulletin from the dedication of our beautiful church building all those years ago. I also volunteered at our Vacation Bible Camp, which let me meet some of the children of the parish and community.
These experiences have reshaped how I think about my future. I am still not sure if ordained ministry is God's calling to me, but thanks to my time interning at Saint Paul's, I have a better idea of what that path looks like. I want to thank everyone that I spoke to and worked with over this summer for showing me all the ways that our parish serves God and our neighbors. Some of you I have known for about as long as I can remember, while others I only got to meet for the first time this year, but each of you has helped me understand everything that this parish. I wish everyone the best as the school and program years start up again!
With thanks,
Jack Brownfield