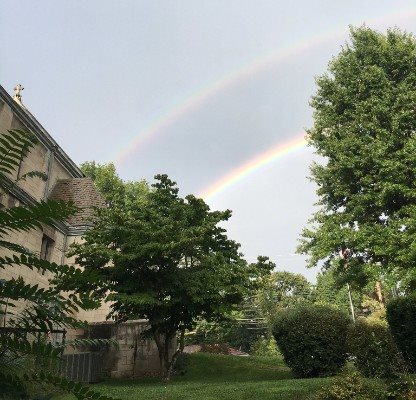 Have you seen the general growth in our 8:45 and 10:45 music ministry ensembles? What is the source of this movement towards growth? Here is a brief answer in the style of St. Thomas Aquinas who observed motion and looked for causation. Two sources of motion are an objective reality. We have added choral scholars; and, our parish is growing and among newcomers are those who wish to initiate or continue their music ministry and feel welcomed to do so. Musicians have a unique dualistic personality comprised of recognizing their inherent musical skills and feeling joy in their musical expression. What causes that joy, those musical skills and our appreciation of music? Here, St. Thomas would say, "the unmoved mover. This, people call God."
The month of November brings closure to the season after Pentecost in a bold manner. Our single 9:45 liturgies early in the month celebrate All Saints and the centenary of the end of World War one. A special feature at All Saints will be the singing of the Litany of the Saints in procession at the Sequence. It will be a musical call and response for choir and congregation noting the Saints of the Church and those closer to home such as Fred Rogers and Billy Strayhorn. On November 11 we commemorate the conclusion of World War One with hymns of that era and the choir sings the Hubert Parry setting of John Greenleaf Whittier's telling text, "Dear Lord and Father of Mankind, forgive our foolish ways." During our Ministry Fair we will ask you to "vote for" your favorite hymns. Stop by the Music Ministry table and make your choices. We who sing, pray twice- Saint Augustine.
Free Concert For a Loving Community
Our next Friends of Music Concert on Sunday Nov. 18 at 4:00 pm is different from all others. If you enjoy the songs of indie pop, the free expression of jazz and the rhythms of slam poetry, this concert is for you! Why? - "Because it is a concert of unity!" This multi-faceted celebration of community, and love across difference features a free performance, including:
WYEP Award-Winning Singer Songwriters:
Jess Klein, singer-songwriter found her home in the Pittsburgh music scene, doing what she does best: playing great music, supporting other women musicians, and making true friends wherever she goes.
Dan Styslinger is a multi-instrumentalist, composer, producer, and educator based in Pittsburgh, PA For more information, visit www.DanStyMusic.com.
Sherrika A Mitchell is an award-winning Slam Poet. When not traveling to compete in or judge slam poetry competitions, Sherrika serves as Student Activities/Residence Life and Coordinator of Diversity programs at Penn State Beaver.
Lee Robinson, our Jazz Artist in Residence is one of Pittsburgh's premiere jazz artists. His performance will include solo and ensemble work with in-house jazz musicians plus providing improvised accompaniment to Sherrika's slam poetry.
The Sacred Bridge Interfaith Choir under the direction of Cantor Rena Shapiro.
Opening prayer by Rabbi Jessica Locketz of Temple Emanuel.

Co-sponsored by
NAT28 Music Ensemble
State Representative Dan Miller
Bower Hill Presbyterian Church
Unitarian Universalist Church of the South Hills
Temple Emanuel of South Hills
We are excited to be part of a community working to end discrimination, as loving our neighbors is one of our most cherished values.