"Music makes community."
a reflection by Assistant Music Director for Children, Christin Cooper

Throughout my first year at St. Paul's, I have seen, heard, and felt this to be true. I have been welcomed into musical communities like the Chancel Choir, Youth Praise Band, and Handbell Ensemble, and I have seen how our musical offerings cultivate community within our congregation.
Without a doubt, one of my favorite aspects of being a musician is connecting with others through music. When we sing or play an instrument, we share parts of ourselves that are intimate and true, and that's what gives music its power. Labels and barriers are removed and what is left is an expression of our shared humanity. I believe there is no faster way to bond with another human being.
On October 14th, an event called Voices in Unity will bring us together with our neighbors from Temple Emanuel and Bower Hill Community Church. I hope you will join us as we sing familiar songs, snack on delicious food truck fare, and get to know one another.
The theme song of the event is "I Hear Them All" by Old Crow Medicine Show. You can find recordings and lyrics online if you'd like to check it out ahead of time. Voices in Unity will be held at Bower Hill Community Church on Sunday, October 14th from 4-6pm. You can find out more at https://www.stpaulspgh.org/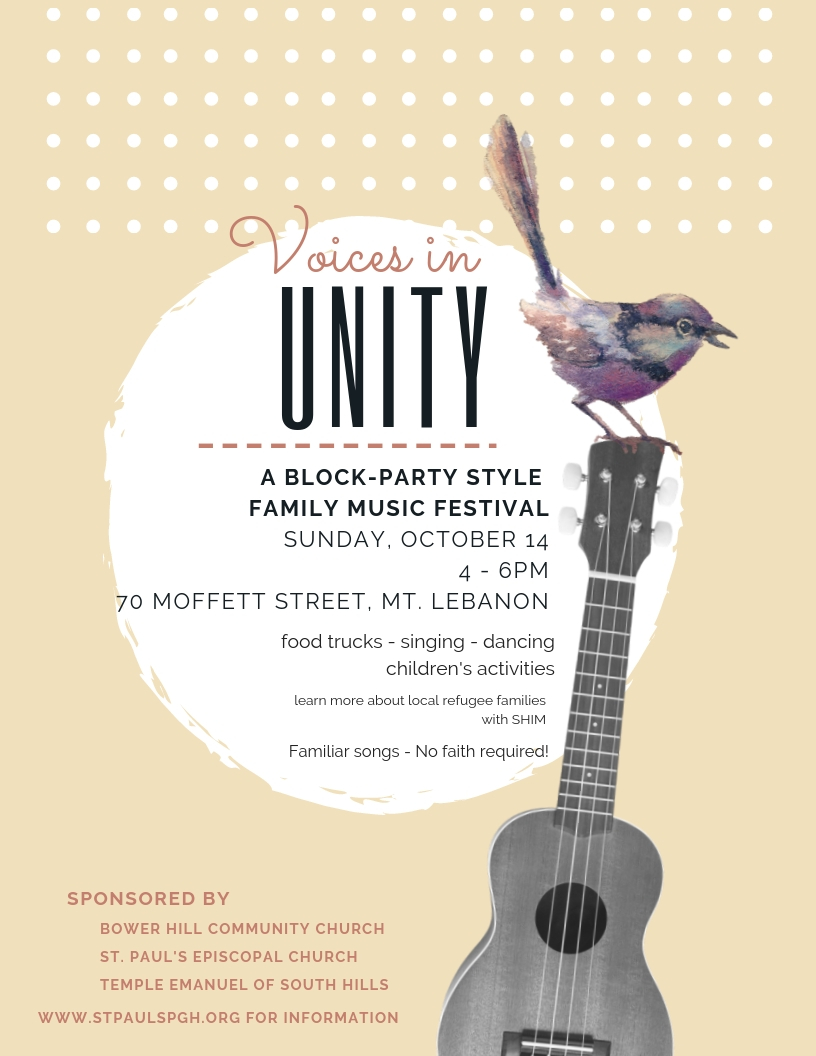 Your Music Ministry is Underway
A reflection by Director of Music and Arts, Doug Starr
All rehearsals and ensembles have started and are or soon will be in service for all liturgies. The following highlights were recently reported to staff and Worship Commission:
Parish growth has stimulated enthusiasm. The Chancel Choir has grown and has added two Choral Scholars. Additional parish singers are joining us before year's end.
The Children's Youth Music Ministry has grown so that another choir has been added; we now have the Canterbury Choir for grade school children and the Good Shepherd Choir for pre-school through first grade children.
The 8:45 Ensemble now combines Praise Band youth with the weekly 8:45 ensemble. We intend to feature Praise Band Youth in music at the offertory as their schedules permit.
The Friends of Music Guild Concert Series offers our best season yet. Brochures are available and we advertise on Facebook, our parish website, diocesan "Grace Happens," and local media. Our season also reflects partnership with other parish ministries. For example, our November concert celebrates Mt. Lebanon's Ordinance Bill #11-17 which bars all matters of discrimination; a partnership with social justice, and our May concert features two Charlie Chaplin movies with live music (and popcorn); a partnership with Children's Ministries.
The Handbell Ensemble is formed and looking for new members. We have a few new youth musicians who are interested in learning to ring. We are sending 2 octaves of the bells out to be completely refurbished this fall, so our initial repertoire will be played on Melody Chimes in the meantime.
Yes, your Music Ministry is off to a wonderful start. Some have even notice that the organ cleaning has produced a brighter sounding instrument. Who knew?
I want to especially thank all our music ministers and parishioners who have supported our music ministry through gifts of time, talent and treasure. Financial gifts to our Concert Series, Friends of Music fund, Vocal Artist in Residence fund and even unsolicited gifts to Choral Scholars have added to the aforementioned enthusiasm! Thank you everyone! Keep our ministry in your hearts and prayers.
Our October Friends of Music Concert is Sunday, October 21, 2018
at 4:00pm. It features Organ Artist, Russell Weisman, who will be in residence that weekend playing for our Sunday morning 10:45 am liturgy and in recital that afternoon.
Russell Weisman is an award winning organ artist and Pittsburgh native. His recital program will present a recital of organ masterworks and he will collaborate with Katy Williams, St. Paul's Vocal Artist in
Residence, in Bach's Cantata BWV 52, Falsche Welt, dir trau ich nicht. Find out more about Russell at http://www.russellweismann.com/Suggested Donation; $10