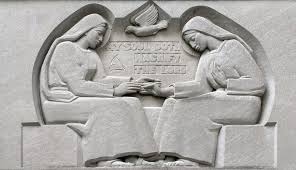 Advent 4 focuses on the Grace of Mary's role in the redemption story. The Annunciation and the Magnificat are all preludes to the birth of Christ that we celebrate just one day after Advent. Magnificat, the organ prelude and postlude by Alexandre Guilmant, gives musical voice to Mary's song of triumph and humility. The sequence and communion hymns celebrate the Annunciation and the Blessed Mother. In her name all theology and philosophy are united.
On Christmas Eve at the evening liturgy we continue a musical recognition of Mary.
The 9:00 pm Christmas Eve Service will be preceded by prelude music for organ, orchestra and brass. The Advent orchestra will begin the prelude at 8:30 pm with Concerto for Two Flutes, Strings and Continuo by Antonio Vivaldi. Katy Williams will then sing the beautiful Christmas Lullaby from the musical Songs for a new World by Jason Robert Brown. The orchestra and brass will then accompany the choir in two anthems; A tender shoot by Otto Goldschmidt and What strangers are These? by Richard Purvis. We close the prelude music with a carol sing accompanied with orchestra. The music in the 9:00 liturgy is favorite Carols and two choral anthems; Ave Maria by Robert Parsons and Tommy Starr's setting of In the Bleak Midwinter. It will be an outstanding liturgy of traditional and appealing music. Please join is on Christmas Eve at 8:30 PM.