I always look forward to Christ the King Sunday for all its opportunities to make joyful and triumphant music. At the offertory, we sing My Most Gracious King by British composer Andrew Fletcher (b. 1950). He served as organ scholar at Keble College, Oxford; organist at St. Mary's in Warwick; and as Director of Music at St. Thomas's Stourbridge. His setting of My Most Gracious King uses words by Nicholas Breton (1545-1626) from his 1602 work, "The Soul's Harmony.
About this text and poet Nicholas Breton, literary scholar and alto chorister Kathleen Hendricks writes:
"Nicholas Breton (ca. 1553-1626) was the contemporary of Shakespeare and Edmund Spenser, of John Donne and George Herbert. Though he languishes in obscurity today, during the Elizabethan and Jacobean eras, he was known for the profusion and variety of his work. He wrote satires, essays, and dialogues, although he is perhaps best known for his religious and pastoral poems. He also was among the first English poets to think of himself as a professional writer, to be recognized, and compensated, for his gifts. Despite his ambition, Breton was keenly aware of his limitations, which he expressed as self-deprecating wit. In one early poem, he compared his plain verse to bad cheese: they both lacked taste. In the lovely religious sonnet (which we sing today), "Oh That My Heart Could Hit Upon A Strain," Breton's modesty acquires a spiritual dimension. Here, the poet laments that he cannot praise God as God deserves. The poet imagines angelic music and inspired words beyond his expressive powers and yearns to re-create this vision in his own poetry. Even as he pictures his earthly poetry achieving heavenly heights, he concludes that God's glory outstrips any words or music and that God is best praised in human contrition and devotion – "souls may sing when all heart strings are broken."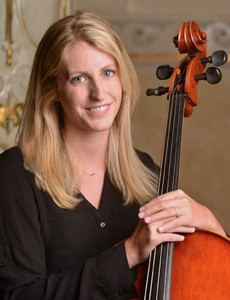 Our next Friends of Music Concert is Sunday, December 10th, 2017 at 4pm and features our very own Alexandra Thompson. Cellist, Allie attended St. Paul's growing up, sang in the Canterbury Choir and Youth Choir, played a great number of times in worship and now plays in the Pittsburgh Symphony Orchestra! She will perform an assortment of classical works and holiday favorites. Proud father and retired PSO member, Thomas Thompson will be in attendance with beautiful wife and singer, Christine Thompson.
Come join us for a most splendid concert!
Suggested Donation; $10