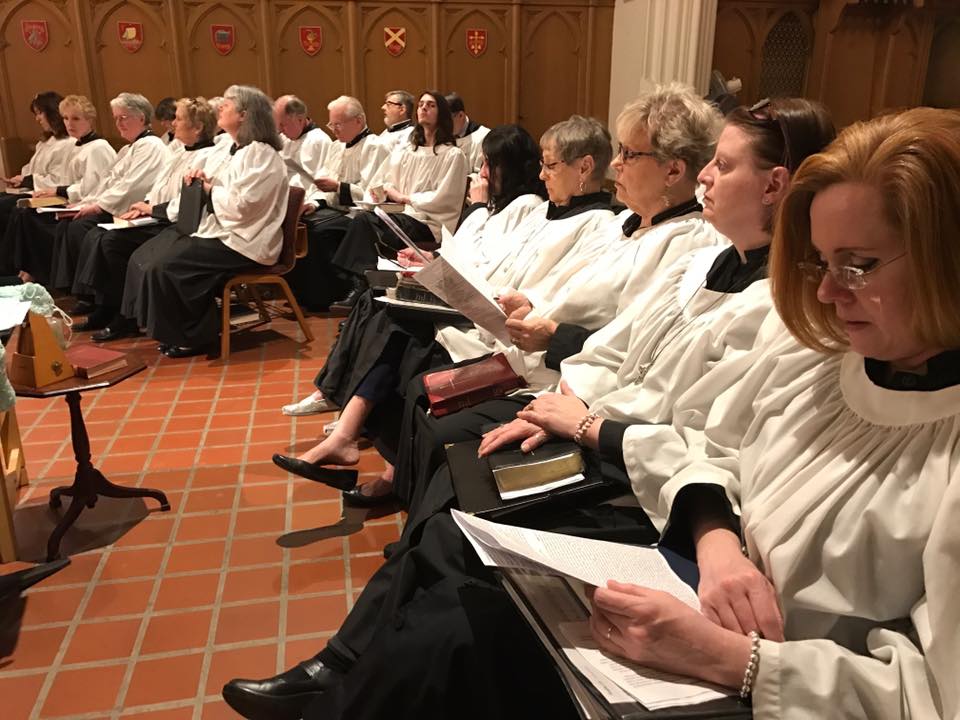 The season after Epiphany is especially long this year and full of opportunities for great worship music. This article takes us through mid-March for music and special events.

The Chancel Choir music for February and early March is as follows:
Sunday, February 3 Fourth Sunday after Epiphany
In te Domine speravi, D. Buxtehude Jerusalem, Jerusalem, from St. Paul, F. Mendelssohn
Sunday, February 10th Fifth Sunday after Epiphany
Sanctus, Faure Requiem
Largo (Winter) from Four Seasons, Vivaldi (Handbells)
Sunday, February 17th Holy Baptism Sixth Sunday after Epiphany
Blessed are the pure in heart, H. W. Davies
Sunday, February 24th
Annual Meeting, Single liturgy Seventh Sunday after Epiphany
See what love, from St. Paul, F. Mendelssohn
The gift of love, H. Hopson
Sunday, March 3 The last Sunday after Epiphany
Sanctus and Benedictus, Missa Brevis #7, F.J. Haydn
---
Our Music Ministry principle fundraiser has a new look while maintaining the finest in food and entertainment. Mike's Episcopal Café is now Mike's Episcopal Cabaret!
Mike's Cabaret, Saturday February 16, 6:30 pm in the Undercroft. It is time to purchase your tickets to Mike's Cabaret, an improved and enlivened dinner fundraiser for St. Paul's Music Ministry. The Cabaret offers a wide selection of drinks and platters of food served buffet style. Entertainment will feature singers and instrumentalist both young and older and, of course, at the center is our Cabaret Jazz ensemble. Mike Plaskett and John Sozansky will call us to food and to our seats for the show.

Click here to purchase your tickets!
---
In mid-March our Lenten Organ recital series returns. These recitals feature local talent and are short in duration. Make them part of your Lenten discipline:
Lenten Organ Recital Series Wednesdays in March 2019
1:00 pm-1:30 pm
On Lenten Wednesdays, organists Jim Burns, Doug Starr and Jon Tyillian will give a short program of organ works for Lent. All are welcome to attend.
Wednesday, March 13 at 1:00pm
Jim Burns, Westminster Presbyterian
Wednesday, March 20 at 1:00pm
Doug Starr, St. Paul's Episcopal
Wednesday, March 27 at 1:00pm
Jon Tyillian, Calvary Episcopal
Free Will Offering
---
Our very own Music Assistant, Christin Cooper and her colleague, James Iman, will be featured in our March Friends of Music concert on Sunday, March 17, 2018 at 4:00 pm.
Known as (Co) ordinal Piano Duet, Christin and James perform selections from their Inaugural concert season. Their performance will feature an eclectic mix of music written for solo piano and piano duet from the turn of the 20th century to today. Program highlights include Samuel Barber's "Souvenirs" and a lovely pianistic arrangement of Claude Debussy's "La Mer."
Suggested Donation; $10
---
Chamber Music at Old St. Luke's Presents
Amor! ... Ballads and Fado
Daphne and the St. Michel Band
MOLLOV and MARCINIZYN

Sunday, February 17, 2pm
330 Old Washington Pike, Carnegie, Pennsylvania 15106

Chanteuse Daphne explores the passionate colors of world music. With Vladimir Mollov and John Marcinizyn...songs in French, Spanish, Bulgarian and the world of Portuguese Fado. Traditional and original songs penned by the artists premiere at Old St. Luke's in the season of love.