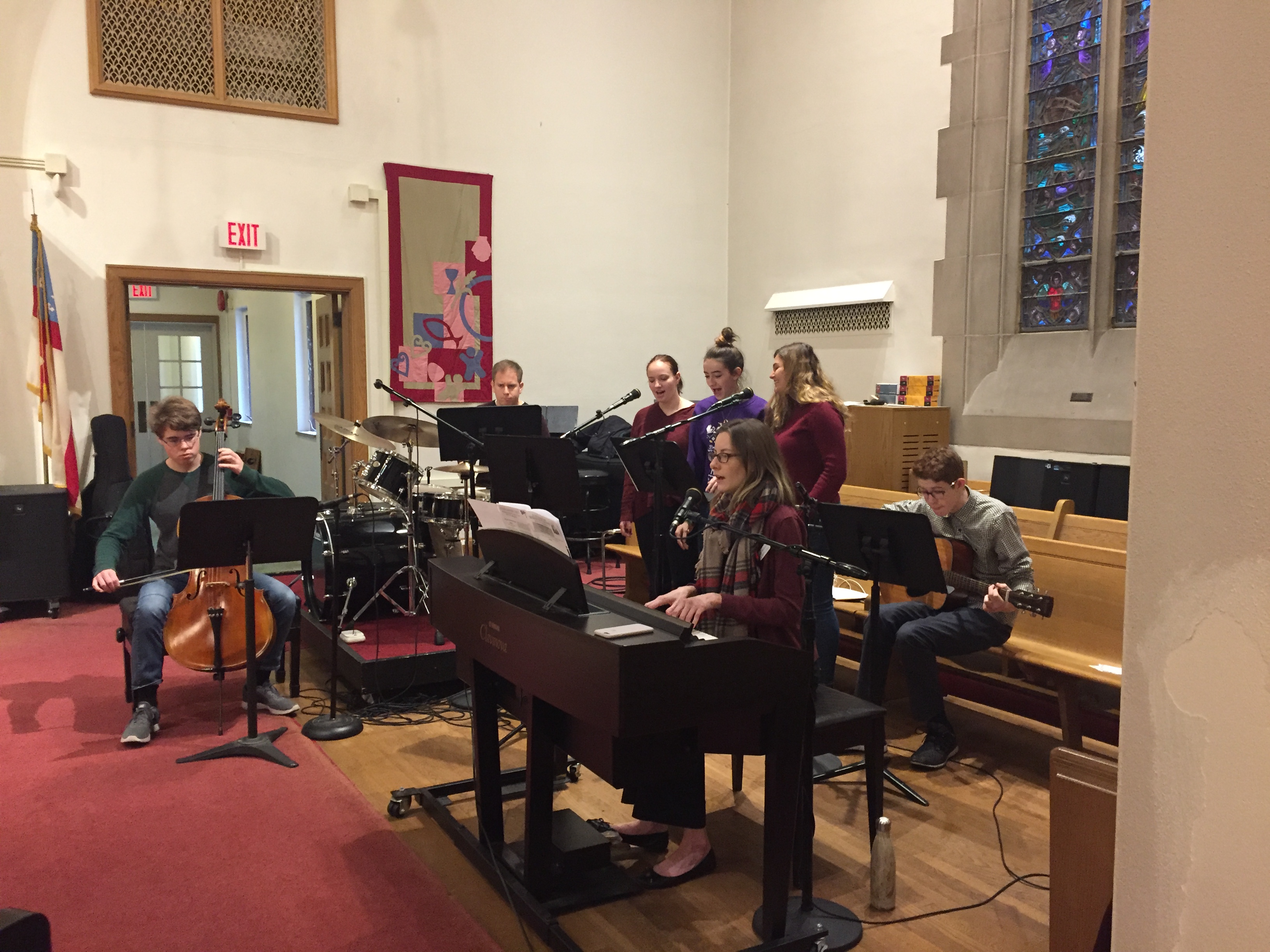 St. Paul's Youth: December/January 2018

Remember How Much God Loves You! And your Family! And your Friends! Merry Christmas to All our Youth, Families and Friends!
Youth Praise Band is open to all youth with any touch of musical skill. We jam, have fun and occasionally rock the 8:45 Contemporary service! Join us on Tuesdays from 6-7 pm in the church.
Explore with Youth Forum is a casual gathering of high school age youth looking into Jesus' teachings and how His Words strengthen all of us. We meet in the comfortable youth room to catch up with friends, discuss the Gospel and relate it to areas of the modern world. In recent forums we've explored race issues, grieving, and prayer. We look forward to discussing challenging teen decisions, helping others and supporting friends. Come join us on Sunday mornings from 9:45-10:30.
We call them EYC Study Breaks because that is what they are! These weekly get-togethers provide an opportunity for youth to step into church and relax away from their busy schedules. We share a light meal, we engage in fun, group activities that encourage fellowship. Then it's kick back and chill time in the comfortable youth room! EYC stands for Episcopal Youth Club and is a central part of our Youth programs throughout the year. Jr. EYC (middle schoolers) meets on Tuesday evenings from 6-8, and Sr. EYC (high schoolers) gather on Wednesday evenings from 6:30-8:30. Come join us! A special Sr. EYC Welcome Back will be December 20. All you former EYCers are invited to come back and relive your Youth glory days and catch up with friends.
MLK Work Day We are planning a mission work day for Martin Luther King, Jr. Day, January 15. Most youth will have this day off from school so plan on joining us for a few hours in the morning helping those of us in need this winter. A work site is being arranged so stay tuned for more info!
Youth Bible studies meet before Study Breaks. Juniors meet Tuesdays at 5:30 in the youth room. Seniors meet Wednesdays at 6. This is a casual setting with friends where we read and study the Gospel and other scriptures. Bring your favorite Bible or use one of ours. Join us!
Acolytes. This an important, youth led ministry that helps with the flow of our Worship services. Anyone 5th grade and older can become an acolyte! Contact Paul Barker with questions and a 20 minute introduction. The Christmas Season is here! Please, check out the schedule and plan to serve. All Acolytes are expected to serve during Christmas so sign up with Paul Barker!

Sunday, Dec. 24 - 2 pm (Team 1 + volunteers)
4:30 pm Pageant (Team 2 + volunteers)
8:30/9 pm (Team 3 + volunteers)
Monday, Dec. 25 - 10 am (Team 4 + volunteers)
Sunday, Dec. 31 - 9:45 am (volunteers)
Our next Mission Trip Meeting will be Wednesday, January 17 at 6:30pm at St. Paul's, Mt. Lebanon. We will share a meal, and continuing our plans for June 2018! Mission Trip dates are June 17-23. Registration will begin online through St. Paul's website in January! Youth Mission trip is open to all high school age youth and adults in the Diocese. Come on out and find out more about this amazing ministry.
For more information on any Youth Program contact;
Paul Barker
Director of Youth Ministries
412.531.7153 x20
Other ways to stay in touch;
www.facebook.com/hokiebarker (friend me and I can add you to EYC group)
On Instagram/stpaulspgh (photos from MT16 and other events)