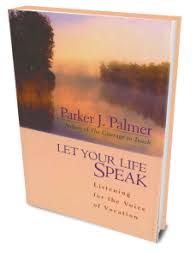 Join us during Advent in reading Parker Palmer's classic book Let Your Life Speak. This is a book that opens up conversation around listening, vocation, and compassion - themes resonant with the spirit of Advent. We will be offering several small group opportunities that will meet over 3 sessions:
Sunday at 7pm, led by Eileen Sharbaugh in the Library
Wednesday at Noon, led by Rev. Noah H. Evans in the Conference Room
Wednesday at 6:30pm, led by Rev. Garrett Yates in the Chapel
Thursday at 6:30pm, led by Erin Morey in the Lounge
Groups will begin the week of 12/3, convene the following two weeks, ending the week of 12/17.
Here is a schedule of the chapters we will discuss each week,
so you know what to read ahead of time:
Week 1 - Chapters 1&2
Week 2 - Chatpers 3&4
Week 3 - Chapters 5&6
***Both Garrett and Noah have copies of the book to purchase for $15 or you can order it on Amazon or another online seller
***Email Garrett ([email protected]) with any questions; no need to RSVP, just choose a time that works for you and come.